Switzerland vs. England: PREVIEW
September 7th, 2010 | by: Adrian |

View Comments
Going into this match, the football itself is not actually the main focus in the news, rather it is the allegations surronding Wayne Rooney's private life…and quite frankly, I can't stand this bu77$h!t.
For those of you not yet up to speed, long story short: two British tabloid newspapers have reported that Wayne Rooney had allegedly visited a prostitute repeatedly during the time that his wife was pregnant. Much speculation then developed as to whether or not Rooney would travel to Switzerland or not in order to be with his family during this time. It has now been confirmed that rooney will indeed take part in the match against the Swiss in Basel, despite the allegations.
However, before I get on to talk about the football itself, there's just a couple of things I want to get out there…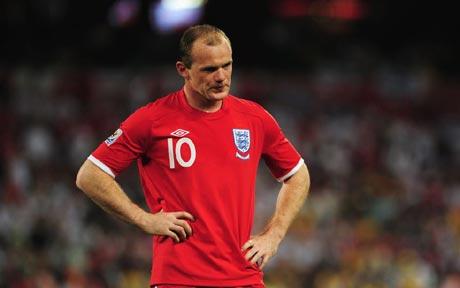 Look at the state of English football today. Perhaps the reaason why the national team does badly is because of the seemingly never-ending sex scandals we see surronding the lives of their players. John Terry, Ashley Cole and now Wayne Rooney have all hit the headlines for shameful activities…and their media at home isn't helping much – clearly presenting psychological problems to the players.
ANYWAY, LET'S GET BACK TO TALKING FOOTBALL…
Clearly, having Rooney back in the squad presents a boost for the English, as Rooney was the heart of the English attack during the victory over Bulgaria only a few days ago. However, due to the scandal back home, questions have undoubtedly been raised as to whether or not the Manchester United striker can play without the reports effecting his game – something that Swiss national team coach Ottmar Hitzfeld believes will be a factor:
"I'm no psychologist but, of course, such a thing like that will weigh on a player."
More on the English: The 'Three Lions' are srt to play without the services of John Terry, Frank Lampard and Peter Crouch for the qualifying match.
News from the Swiss-front:
Well, when you look at our list of missing players, and the form of some of the ones taking part, you can't help but think that we may not be able to pull off something too spectaculor…
On the injury side of things, playmaker Hakan Yakin will be sitting this match out and Leverkusen winger Barnetta is also out.
Swiss no. 1 'keeper Diego Benaglio is also out of the match, on paternity leave. Congratulations Mr. and Mrs. Benaglio.
So, our formation ought to resemble something like this:
……………………….Wölfli…………………
Lichtsteiner…Grichting…V. Bergen…Ziegler
Padalino…Schwegler…Inler…D. Degen….
………………………..Derdiyok…………….
…………Frei…………………………………
PREDICTIONS:
An England team with their star player hit by scandal? A Swiss team who hasn't won at home in six attempts? Both teams unconvincing in the World Cup? England with defensive worries? A Swiss team with an impotent strike force?
It seems to me that this will end up being a low-score draw…0-0 or 1-1 in my opinion. However, if one team were to win, I wouldn't put my money on a repeat of the Spain – Switzerland match.
Keep sending in those comments!
HOPP SCHWIIZ!!!
Subscribe

Switzerland World Cup Blog RSS Feed

Share
blog comments powered by Disqus