SUI 1:3 ENG – Still plenty of time to go
September 8th, 2010 | by: Adrian |

View Comments
So, we lost 3:1 after I had predicted earlier that we were in for a low-score draw with Wayne Rooney to do poorly…oh baby, how I got that one wrong.
Before we go on, let's take a look at the goals:
Well, not too much to say here…
I actually think we played pretty alright before Stéphane Lichtsteiner got sent off for a second bookable offence…I can't seem to find a highlights reel with that included. However, the decision by the referee was nonetheless WRONG. Lichtsteiner had in fact got the ball off the man first before James Milner came tumbling down like the Wall of Jericho. It is hard for me to defend Lichsteiner, seeing as how he plays his trade at Lazio – the sworn enemy of my team: AS ROMA.
Statistically speaking, going down a goal is better than getting a player sent off…but unfortunately we the Swiss had to experience both…in that order.
CRITICISMS OF THE SWISS:
Firstly, I thought Benaglio wasn't even going to play in between the post for the Swiss, so you could imagine my surprise when I saw him playing. He may have earned 5 stars out of 5 for all his preformances during the World Cup (according the my articles at the time) but he preformed to a mere shadow of the 'keeper we saw only 3 months ago.
Getting a defender sent off, however only confounded the Swiss as the English were able to thread through-balls far too frequently against the Swiss.
Once again Moreno Costanzo got left on the bench until the 80th minute. Herr Hitzfeld, if there is some way you are able to read this, please bring on the Young Boys striker a lot sooner into the game, he's a great striker who's got speed and skill. Don't rely so heavily on Frei…we need to play with 2 strikers upfront because Switzerland cannot accompany a trequartista, becasue we don't have one…so enough of this 4-4-1-1, and switch to a 4-3-1-2 if you really need to play with a fantastia, and that ought to be Hakan Yakin. but if not fit, try not to use one, because Derdiyok is a pure striker for us.
POSITIVES?
Well, we did break our goal-scoring duck with an excellent goal by Shaqiri, however, what the hell are our strikers doing? Once again a Swiss striker has failed to score, in fact, one year from tomorrow will mark the last occasion that a striker has actually scored a goal for the national side competitively…bringing me back to issue of Costanzo (scorer of the only goal during the friendly against Austria last month).
Moreover, we shouldn't get too down on our luck, there's still plenty of games left in order to qualify for the UEFA Euro 2012…included a reverse fixture against England…who knows, perhaps fortunes will change next time around.
As Shaqiri did for us last night, Switzerland will need to find goals in order to take part in the games of 2012.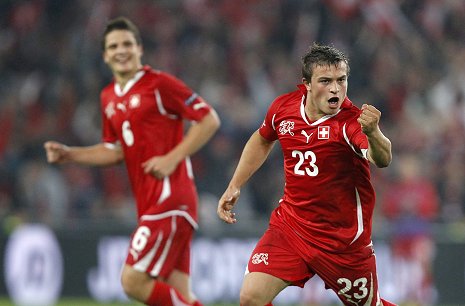 Keep sending in those comments!
HOPP SCHWIIZ!!!
Subscribe

Switzerland World Cup Blog RSS Feed

Share
blog comments powered by Disqus