Now Streller is out of the World Cup too…
May 28th, 2010 | by: Adrian |

Comments Off
So much for spending all that time carefully selecting my 23 to travel to South Africa this summer, barely a week has passed since news broke that left-back Christoph Spycher will not be representing Switzerland this summer, FC Basel striker Marco Streller – joint second top scorer in the Super League last season, sustained a thigh injury – which doctors have examined, and now declare Streller unfit for South Africa '10.
This greatly reduces our reliable options of strikers – but I guess that promotes Leverkusen's Eren Derdiyok up the pecking order.
Coach Ottmar Hitzfeld has decided to call up Albert Bunjaku of German club Nuremburg.
This is the latest in Streller's complicated international career: having constantly preformed consistently at club level, each time a major tournament rears its head 'something happens.'
UEFA Euro 2004: Having played a solid role in qualification, Streller sustained an injury rowards the end of the season, keeping him out of the Portuguese showpiece.
2006 FIFA World Cup: In the second-leg playoff against Turkey – it was Streller who famously scored the goal that would take Switzerland to the 2006 World Cup. However, in the R16 clash versus Ukraine, Streller – the first penalty taker of the shootout, missed his penalty, and was somehow (strangely) blamed for Switzerland's loss on penalties.
UEFA Euro 2008: Leading up to the tournament co-hosted by Switzerland – many fans criticised Streller's preformances – having made only one appearance during the tournament, Streller called it quits on the international stage – citing the lack of fan support.
2010 FIFA World Cup: Coming off a highly successful season with FC Basel, Streller injures his thigh muscle two weeks before the beginning of the tournament – ruling him out of contention.
We here at the Swiss blog wish Marco the speediest of recoveries, and hope that he gets back to scoring goals again soon.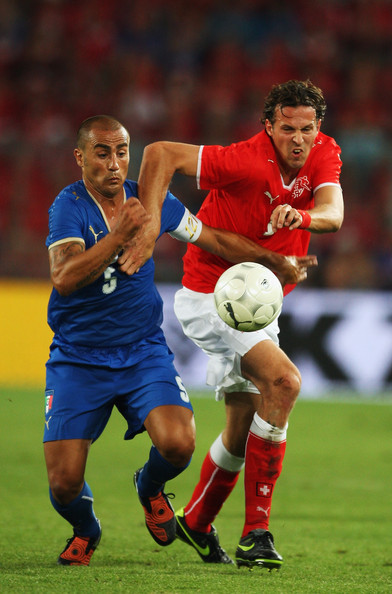 Subscribe

Switzerland World Cup Blog RSS Feed

Share
Comments are closed