FC Basel in the third round of the Champions' League! Bellinzona draws with Aarau
August 6th, 2008 | by: Jan |

Comments Off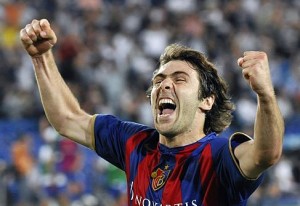 Basel defeats Goteborg 4-2
In the second leg of the second round of the Champions' League, Swiss Champions FC Basel have defeated Swedish Champions IFK Goteborg 4-2, totalling a 5-3 aggregate.
Christian Gross' men came from a goal behind with 20 minutes left. The guest team was leading 2-1 at the 70th minute yet goals by Chipperfield and Ergic ensured Basel's qualification.
The three "survivors" of the epic 2002-2003 season (when Basel kicked out Liverpool in the Group Stage and after that claimed famous wins against Juventus and Deportivo La Coruna) proved to be decisive in this second leg: Huggel, Chipperfield and Ergic.
Huggel scored the equaliser 10 minutes after Wernbloom's opening goal that had given the Swedish team the vital away goal. Yet the young Scandinavian prodigy Soder gave the guests a new advantage that seemed to plunge Basel in a nightmare.
Chipperflied took Gjasula's place and gave the home team a breather following his equaliser on Derdiyok's assist at the 71st minute.
Yet Serbian International Ergic became the star-player of the last 10 minutes. He struck a post at the 80th before scoring on a penalty at the 84th minute and completed his masterpiece in extra-time to take away all hope from the Swedish side.
Christian Gross said: "To win after having been led twice: I can only congratulate my players. (…) To kick out the Swedish Champions is a great result. The game against Vitoria (Guimaraes) will be harder. Yet with this team, one can win anything!"
Next Wednesday Basel will defy Portuguese newcomers Vitoria Guimaraes for a spot in the lucrative group stage. Following the epics of 2002-2003 and FC Thun in 2005, we can only hope that Switzerland will be part of a challenging new European season.
Basel – IFK Göteborg 4:2 (1:1)
St.-Jakob-Park. – 18 846 Spectators – Referee: Richmond (Scotland).
Goals: 18. Wernbloom 0:1. 27. Huggel 1:1. 52. Söder 1:2. 71. Chipperfield 2:2. 84. Ergic (Penalty) 3:2. 93. Ergic 4:2.
Basel: Costanzo; Zanni, Abraham, Marque, Safari; Huggel, Carlitos, Ergic, Gjasula (61. Chipperfield), Stocker (79. Perovic); Derdiyok.
Göteborg: Christensen; Adam Johansson, Bjärsmyr, Jonsson; Niclas Alexandersson, Olsson (79. Svensson), Eriksson, Hysen (71. Selakovic); Söder (74. Daniel Alexandersson), Wernbloom.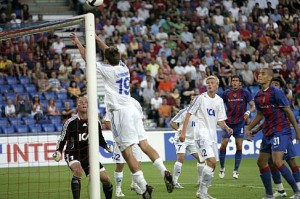 Bellinzona draws with leaders Aarau
In today's 6th Matchday game AC Bellinzona drew with FC Aarau. Bellinzona opened the score through Lustrinelli at the 20th minute before Mutsch's equaliser at the 43rd minute. Aarau dominated the second half, hitting the crossbar at the 78th minute. This is Bellinzona's second point in 4 games while Aarau have 11 points from 6 games and are the only undefeated team in the league.
AC Bellinzona – FC Aarau 1:1 (1:1)
Stadio Comunale. – 4227 Spectators – Referee Rogalla.
Goals: 20. Lustrinelli 1:0. 43. Mutsch 1:1.
Bellinzona: Gritti; Siqueira-Barras (82. Raso), Mangiarratti, La Rocca, Bernardet; Sermeter (53. Conti), Mehmeti, Wahab, Gashi; Lustrinelli, Roux (70. Kalu).
Aarau: Benito; Menezes, Rapisarda, Page, Elmer; Mutsch, Burki, Bastida, Nushi (69. Tarone); Ianu, Rogerio (63. Guerrero).
Zuberbuehler signs for Fulham
Former Switzerland International Pascal Zuberbuehler has signed for Premier League side Fulham whose coach is Roy Hodgson (who coached Switzerland too). He has signed a one-year contract and will have to fight for his place with experienced keepers like Schwarzer andNiemi. This is Zuberbuehler's second time in England: he played at West Bromwich in 2006 before joining Neuchatel Xamax.
Subscribe

Switzerland World Cup Blog RSS Feed

Share
Comments are closed